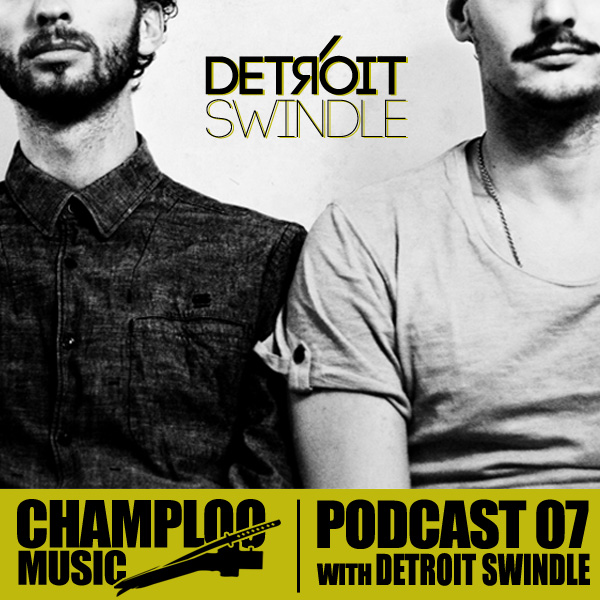 Der neue Champloo Podcast spricht wie immer klare Worte, House nothing else but House.
Emotionale Tracks, schöne Stimmung.


Champloo Music Podcast 07 with DETROIT SWINDLE by Champloo Music

Tracklist:
01. Trust - Skynet (The Revenge's Mistrust remix)
02. Fred Everything & Atjazz - Back Together (Fred Everything's Lazy Days original)
03. The Canyons - See Blind Through (Mic Newman remix)
04. Romand Flügel & Roman IV - FKK
05. Kerri Chandler - Halleluja (Supernova's Jackin mix)
06. Nicholas - All Night Long
07. Detroit Swindle - Unreleased remix
08. Fantastic Man - Look This Way
09. Eats Everything - Entrance Song (SLG remix)
10. Coat Of Arms - It Takes Two To tango (free download: Coat Of Arms Music)
11. Agnes - You Did Naughty
12. Detroit Swindle - Creep (unmastered)


"Our 7th episode of the Champloo Music Podcast comes with two very talented guys from the capital of the Netherlands, Amsterdam. Together they form the musical project "Detroit Swindle".
Detroit Swindle consist of Lars Dales and Maarten Smeets, 2 guys that, without actually growing up together, have had practically an identical musical upbringing. A vibrant mix of Motown-soul, funk, hiphop and jazz inspired them from an early age on and after a varied exploration through techno and house, they met each other by mutual interest in Detroit inspired deephouse.
Detroit Swindle have a clear vision on the music they produce and play. If you can't nod your head to it, it's probably not theirs and they probably won't like it. Their productions are best described as contemporary interpretations of classic soul tracks with melodical grooves, jazzy chords and bumpy bass-lines. So in short, if Marvin Gaye would have made house music, they would have been his biggest fans.
2012 is the year of their first releases. With their 'Starvin EP' on Saints & Sonnets, they place themselves amongst highly acclaimed artists like Roman Flügel or Ethyl and Huxley. The second EP of 2012 comes out on Dirt Crew, a legendary deephouse label that needs no introduction and publishes artists like Chymera, Tigerskin or Till von Sein. They are currently working on several remixes and releases, and are experimenting with their DJ/live performance.
We hope you enjoy this great mix by Detroit Swindle"